The project makes use of a range of technologies:- telephone and audio conference calls, fax, direct email, a listserver, two different types of Internet discussion group / BBS software, two web sites, and of course videoconferencing.

At the start of the project, few of the participants had much previous experience of videoconferencing, and the majority of the UK participants had little experience of using the Internet. By contrast, most US participants were used to using Internet email and the Web.

Most of the US schools were fully networked with high bandwidth leased-line Internet access available around the school. The UK schools accessed the Internet from one or more machines in a designated resource area, via modem or ISDN.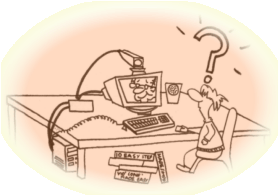 BT equipped the participating teachers in the UK with laptop computers, so they - and their students - could have instant access to stored files and connect to the Internet from any telephone socket. These machines have proved vital to the project: they allow busy teachers to work on the project at any convenient time - at school or at home.


Internet technologies - some observations

Electronic mail is of course an essential technology for everyone involved in the project. Students use it to communicate between videoconferencing sessions, teachers use it to plan and evaluate work, and consultants use it to administer and support the project. The ability to copy messages to third parties, memo style, is invaluable as a quick and easy way of keeping people informed of progress.

Listservers can be a good way to start electronic communications in a project like this, but they can quickly become burdensome, as people receive more and more mail that isn't relevant to them. It's best to move people on to direct emails with local circulation lists as soon as it's practical.

The use of both Caucus discussion group software and Willow's Web BBS system was in some ways complementary: Caucus was useful as a private noticeboard, and for collecting materials as a sort of ad-hoc website. The Web BBS was very useful for short exchanges between students, and was especially favoured in situations where marginal call costs (for working directly online) were not an issue. It was a valuable way to stimulate interaction between groups of students. After a while, however, neither system was used much, participants preferring to use email and visit the project web sites. (Private web sites are used to publish schedules, records, contacts lists, project ideas, etc.. Some content which evolved on Caucus has since been moved to 'normal' web pages.)