An open evening at the San Francisco School of the Arts was enlivened with a breakfast-time English tea and a videoconference link to staff and students at Coombe Girls' School. Chipeta Elementary and Taliesin Junior Schools organised simultaneous end-of-year parties, with a videoconference link-up, to celebrate the project, and show other staff and children what they had been doing.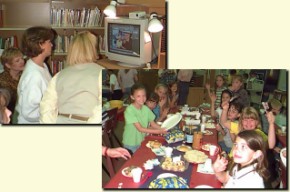 Breakfast at Chipeta: it's tea-time at Taliesin!
Other staff see what it's all about.